The Perfect Combination for Customizing Your Patriotic Firearm - Spectrum Coating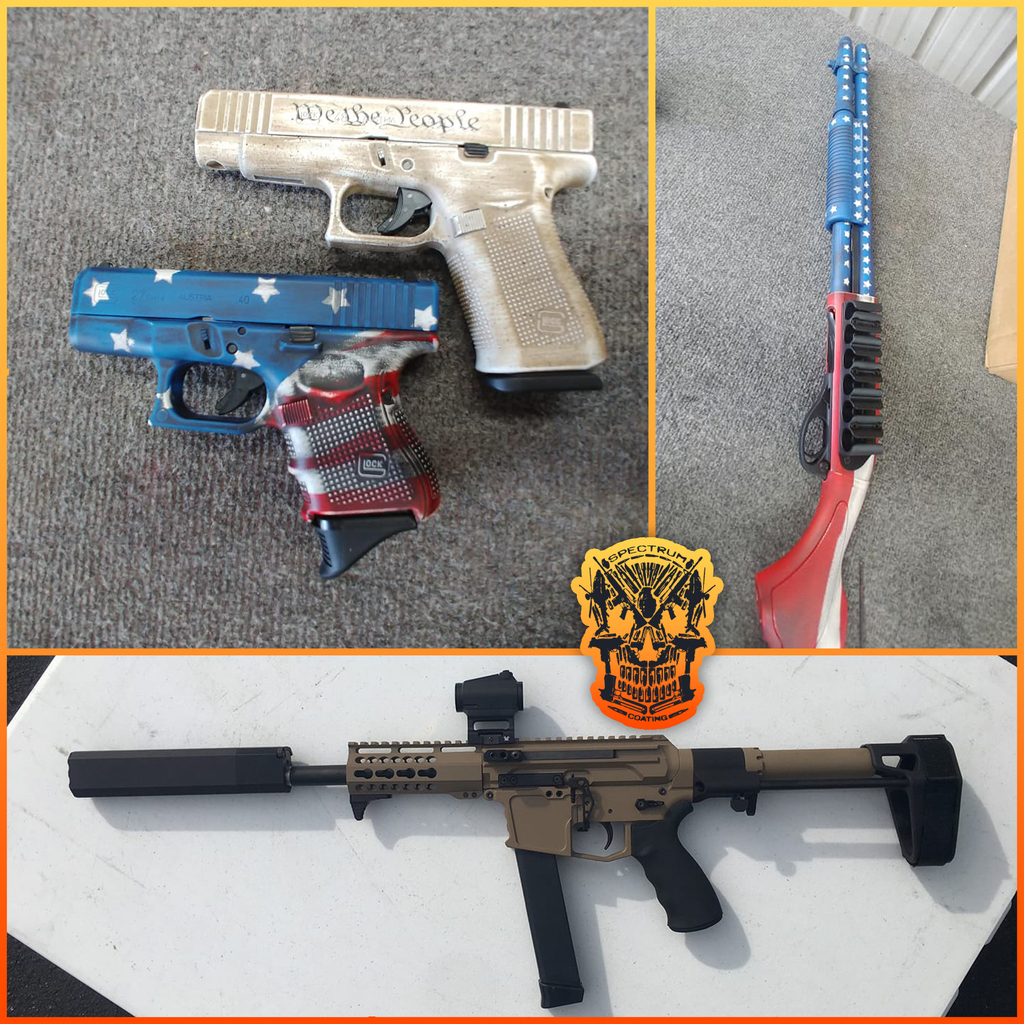 When it comes to U.S. citizens, everyone and their next-door-neighbor have a different way of showing American pride. For some, it is hanging the stars and stripes off their home's porch. Beyond the flag-waving, other expressions include enthusiastic slogans on wearables, supporting veterans, serving on a jury, or donating to a national park. Gun owners who want to infuse a bit of patriotism into their firearms often do so as a way to show their personal support for the Second Amendment.
Protect Your Investment
Industry reports that 2020 is set to be the biggest year to date for sales in the firearms industry. So, whether you are a first-time gun buyer or an avid collector, it essential to protect your investment with a reliable coating like Cerakote. At Spectrum Coating Enterprises, we appreciate the sleekness of Cerakote's Glacier Black or a bit of understated flair using Federal Standard Tan and adding copper or gold accents. For sure, a monochromatic showpiece looks greats on the wall of any patriot's gun room. Then, there is that proud feeling that wells up a little when someone from our team puts the finishing touches on a custom design brandishing that perfect combination of red, white, and blue. You just can't beat the look of traditional stars and stripes.
Count on Performance
Spectrum is proud of what we do, and we stand behind our work. Why? First of all, we believe in the product. As certified Cerakote applicators, we have their quality assurance of providing the highest quality coatings available. Through training and years of experience, we have seen how their ceramics employ a state-of-the-art technology that outperforms other coatings in the testing lab yet also meets our customers' real-world demands. Cerakote has proven to us that the application is a powerhouse of performance like no other coating whether you are a hunter, enjoy competing at the range, or desire the security of having personal protection.
Opt for Customization
In the United States, ownership of a firearm commands a more prominent degree of significance regarding freedom than is found in any other country. There may be a diversity of views on gun policy among gun owners, but the ties that bind run deep as owning a firearm is tied to personal freedom. Whether it is your first piece or an addition to your collection, that togetherness, along with American pride, makes it no surprise that patriotic designs are popular with our customers like they are with the rest of the nation.
Whether your theme includes a proud American Eagle, flying the stars and stripes, or simple handwritten text such as "We The People" or "In God We Trust," there's no better way to support the Second Amendment than displaying that sentiment on your firearm. Spectrum has produced some fantastic designs this last year. We are proud to showcase a few examples in the photo above; there are more on our website, and new projects are regularly posted on social media. For ideas or to see other patriotic themes, be sure to check out Cerakote's website, which features photo submissions from all over the country.
Spectrum Coatings looks forward to the prospect of helping you add a unique design to your rifle, handgun, long gun, shotgun, or custom-built firearm. Contact us by phone, email, on our website, Facebook, Linkedin, or stop by our Cocoa area shop anytime.
P.S. Remember that no matter your political leaning, be sure to honor the principles of the freedoms upon which our nation was built by casting your vote in the November election.