Cerakote and Hydrographics: Order Gifts from Santa and Spectrum Now - Spectrum Coating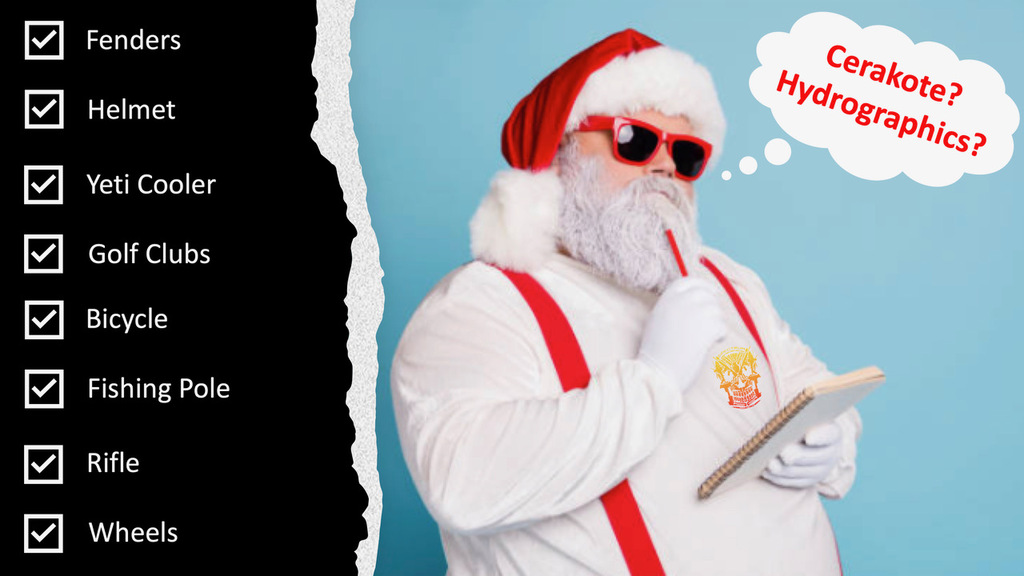 With a month of Black Friday specials already rolling out this week, holiday shopping is starting to look a bit different this year. The countdown clock is already running and oddly enough, store shelves are loaded with a seasonal mashup of pumpkins, turkeys, and wrapping paper. Shopping habits may be changing a bit, but Santa and the elves are already taking orders for Christmas gifts now.

Spectrum Coatings is taking holiday orders now for shoppers thinking about the application of a coating of Cerakote or Hydrographics on that special gift. No matter who you are buying for – a parent, sibling, or spouse, custom coatings and unique designs are sure to please anyone on your list. Not sure? Consider a gift certificate from Spectrum for that collector, sports fan, or hobbyist to choose what to customize – a bicycle frame, car part, golf club, firearm, and more. We do work for customers in Florida and throughout the U.S. and here are a few gift ideas.

The Angler
In Florida, customized fishing gear and boat accessories are hot commodities at any time of the year. Cerakote can be applied to nearly any hard surface and is just one mil in thickness or 1/3 the thickness of a credit card. It can be put on many surfaces, including metal, wood, and plastics. How about a fly box with an etched logo on the top or a custom color on a reel? Looking for an intricate design or pattern? If it can be dipped in water, it can be submerged in Hydrofilm, which means fishing lures, a fly reel, pliers, tackle box, and more for the fisherman. The ideas are limitless.

The Hunter or Marksman
Besides bringing home the game, there's nothing more exciting to a hunter than a personalized, one-of-a-kind firearm or bow. Depending on the look, we offer customization using thousands of colors or designs. If camo is not their style, consider a bold solid color, clear coat, battle-worn look, or custom graphic design. The close tolerances of weapons are not an issue with either Cerakote or Hydrographics. Both provide a thin, but highly durable coating that makes them ideal for firearms. Beyond equipment, bring that rustic glam in from the woods with a big rack or set of antlers dipped to hang on the wall. Just want the look. Order a polyresin deer head wall mount easily found online and let us customize it with one of the thousands of Hydrofilm patterns.

The Golfer
Though we cannot improve anyone's swing or score, customized clubs will certainly tee up some excitement around the clubhouse as well as stand out in a golf bag. Whether purchasing new or digging an old set of irons from the garage, the application of Cerakote adds durability with its high abrasion, impact, and corrosion resistance properties. With Hydrographics, the sky is the limit from golf balls to putters, drivers to a Yeti cooler. Any of these ideas would be a hole-in-one gift for the golfer on your list.

The Biker
Whether a bike has an engine or pedals, or your mode of transportation is a bicycle, tricycle, dirt bike or motorcycle, Cerakote provides components with a sharp look while improving performance. Cerakote high-temp coatings disperse heat to endure thermal conditions without diminishing or dissipating color. Popular applications include the gas tank, handlebars, frames, fenders, wheels, the kickstand, a muffler, and more. For safety's sake, what a cool way to encourage a kid to wear their helmet when Santa brings them one that has been customized with Hydrographics!

The Car and Truck Lovers
Cerakote provides auto parts with the thinnest and most durable protection on the market, along with UV protection, chemical resistance, and can sustain high temperatures under the hood. Hydrofilm wood grain and carbon fiber patterns are trendy for automotive trim and interior parts. If it can be safely submerged in water, it can be dipped. Both types of coating also have a clear coat available. Our certified applicators can customize auto parts from the smallest of detail to covering an entire surface. And, from mud to fuel, this will keep your vehicle looking good.

The Sports Fan
What could be better than giving a gift that shows someone's pride for their favorite sports team or sport? An affordable gift that any sports fan would appreciate is a custom, one-of-a-kind tumbler or mug. Depending on the number ordered, the application of Cerakote or Hydrographics is really affordable for small items. Other ideas include baseball bats, flashlights, sunglasses, belt buckles, cell phone covers, key chains, and flasks - go ahead and challenge us! We will make it look great!

After Christmas?
Use that Visa or MasterCard gift on a custom job for yourself. Bring us your Cerakote and Hydrographics coating idea. The Spectrum team has the expertise to modify surfaces giving them a more rigid and durable finish with a unique aesthetic look.

We really appreciate folks who are planning to shop with our small business in Cocoa this holiday season! Contact us now so that Santa, Spectrum and the elves have plenty of time to add special custom touches to your gifts this year.