Get Clarity on Shipping Your Firearm for Cerakote Application - Spectrum Coating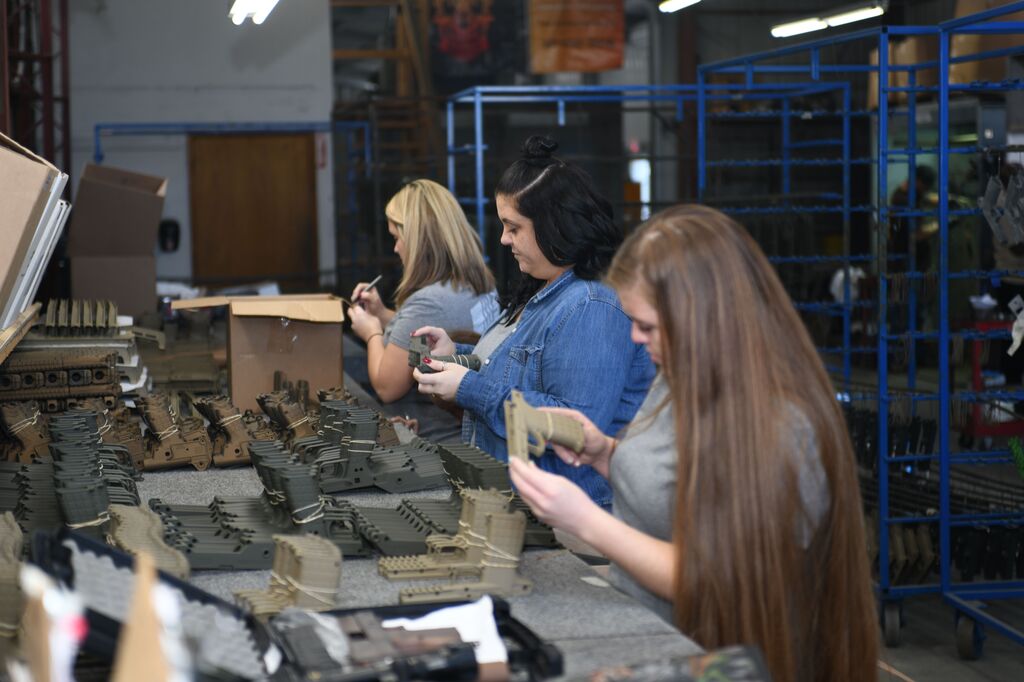 There are nine distinct types of Federal Firearms Licenses (FFLs) available concerning firearms – among them Dealer/Gunsmith (FFL Type 1), and Importer/Dealer of Firearms (FFL Type 8). This is important because if you give someone a serialized component and hire them for a coating service, they must have the appropriate FFL in their possession.
A fundamental requirement of being a certified Cerakote applicator for firearms means holding a Federal Firearms License (FFL). Spectrum Coatings Enterprises holds a Type 7 FFL - Manufacturer/Dealer of Firearms and Ammunition. It permits us to do everything a Type 1 does (buy, sell, and repair) and also allows us to assemble and handle any type of firearm. Located in Cocoa, our shop is convenient for gun owners along the Space Coast and in Central Florida. We have many customers who live in another Florida area or out of state because our license allows customers to ship directly. We are familiar with the specific regulations that govern how to pack and ship a gun and parts. After you speak with us about your project, there are a few essential details to keep everything legal when sending us a firearm to be customized.
Rifles and Shotguns
Unloaded rifles and shotguns are mailable as long as the shipping container complies with the rules and regulations under 27 CFR, Part 478 (the regulation explaining the requirements for manufacturing, importing, buying, selling, and transporting firearms and ammunition), and your state and local laws. It explains that the general public can ship long guns via the United States Postal Service (USPS) as well as a carrier such as UPS or FedEx. The USPS requires that the package have a "Return Service Requested" endorsement and be sent by Priority Mail ("signature required" at delivery) or Registered Mail or be insured for more than $200 and require a signature at delivery. Short-barreled rifles or shotguns that can be concealed by a person cannot be mailed through the USPS.
Other Firearms
Handgun parts can be mailed through the USPS, except for frames, receivers, other components, or other regulated parts which could be assembled to form a firearm. A handgun itself cannot be mailed through the USPS. You cannot ship through US mail either unless the shop has an FFL because it is tracked by the ATF and is considered the "gun" portion of the firearm. Handguns, as defined by 18 U.S.C. § 921, are accepted by carriers such as UPS or FedEx for next day or second-day air only. Most shops will tell you that it may cost a bit more, but shipping via UPS or FedEx is the most reliable for any type of gun or firearm part. UPS does not accept automatic weapons, but FedEx and FedEx Ground will send any firearm including machine guns though they may not insure the package for more than one thousand dollars.
Shipping Your Firearm to Spectrum
When you schedule your project with us at Spectrum, we want to make the process as easy as possible. We suggest these shipping tips to help.
If you are out of state, we will fax, email, or mail you a copy of our FFL license. It must be included inside the package being shipped.
Ship everything in a box, which then goes inside another box.
Choose a generous, strong corrugated box that has never been used before.
Bubble wrap is the best packing material, but we also suggest custom-molded foam inserts.
Wrap components and accessories to be coated separately.
Double-check to make sure there is no ammunition.
Include a photocopy of your state-issued photo identification or driver's license because we must keep a record of shipped firearms. We get your phone number and email address when you place your order but as an extra precaution encourage you to write this information on a piece of paper inside the package too.
Insure your package for the replacement value.
Register your package and ask for delivery confirmation to give you peace of mind that it has arrived.
Nothing on the outside of the box should reveal the contents.
Take the package to the main facility in your area, not a store or drop box because you must verbally notify the customer service clerk of the contents.
Federal, state, and local laws can be a bit confusing when shipping a firearm. These instructions are meant to simplify the shipping process as much as possible. This information is for general information purposes and not intended to be a legal document. When shipping a firearm, you should always check on current regulations with your carrier and state, because laws and rules may change. Understandably, you may have questions. Our staff at Spectrum Coatings is always available to clarify information or address concerns as you prepare to send us your project. Do not hesitate to give us a call or shoot us an email.