Cerakote Oven Cure - Spectrum Coating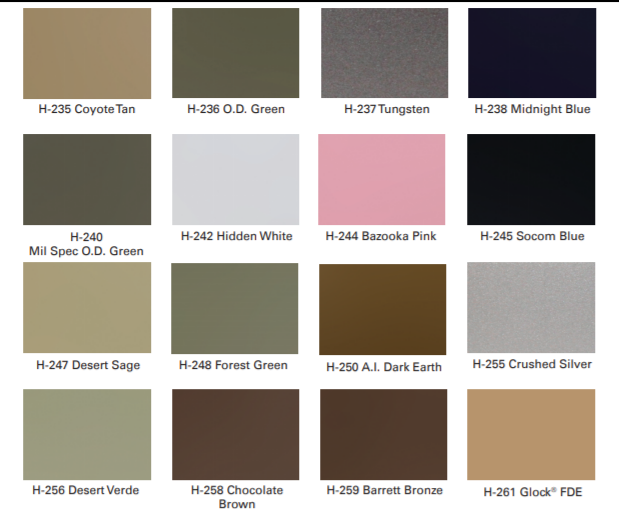 When protection and longevity is the goal, Cerakote Oven Cure is the method! At Spectrum Coating Enterprises, Inc. of Cocoa, we're happy to offer this particular Cerakote finishing and coating as it is particularly strong and really helps to protect your item from the elements as well as the wear and tear of time. When paired with a proper cleaning and maintenance schedule, especially when firearms are the objects in question, Cerakote Oven Cure is the best option.
If you've never worked with protective coatings before, you might wonder how tough they really are. We can assure you that are Cerakote coating is incredibly tough. In fact, products that have been coated with Cerakote can be used in a wide array of different ways! This includes in industries like:
Consumer Electronics
Eye Wear
Firearms
Knives
Salt Water
Military
Industrial Valves
Law Enforcement
As you can see, Cerakote is trusted in many different industries to provide safe protection to many different items. If you have something you'd like to see cured, we're confident that we can provide the safe, timely service you need.
At Spectrum Coating Enterprises, Inc., we have a state of the art 8x8x18 oven in our 6700 sq. foot building to help perfectly cure coatings on any and all applicable items. If you have something you need coated, we have the means and the ability to help. For more information about Cerakote Oven Cure, our protective coating processes, and just how much these coatings and finishes can impact the reliability and durability of your machine in a positive manner, reach out to Spectrum Coating Enterprises, Inc. today!
Whether you're interested in coating a personal firearm or OEM parts, we can help. We've spent the better part of two decades dedicating ourselves to our clients and ensuring that they receive high quality, individualized service. We can help you, too. Contact our professionals for more information.