Cerakote Coatings Fl | Cerakote Finishes | Cerakote Colors - Spectrum Coating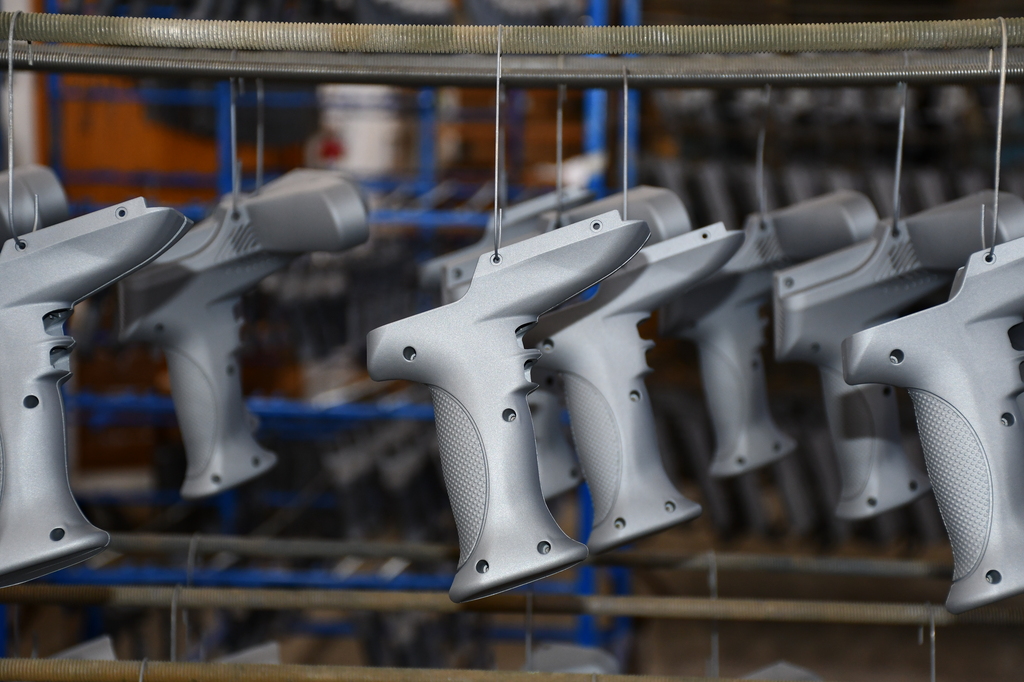 Have you ever wondered how certain objects are so adaptable and resistant to time and the elements? Certain firearms might be used every weekend out in the forest in all different types of weather and still look great while others fall to rust and corrosion almost immediately. One of the main differences between these two guns is the presence of a protective coating. The weapon that can withstand the elements and look great even after years of use has an exceptionally high-quality protective layer that maintains it's longevity.
At Spectrum Coating Enterprises, Inc., we offer many different kinds of protective coating options. One of our most effective Cerakote Coatings is the Cerakote Air Cure coating. It relies on our six state-of-the-art spray booths comprising our top-quality air system to create the perfect finish.

Different Applications Of Cerakote Air Cure
You might think that Cerakote Air Cure is only used on firearms, but that is not the case. In reality, Cerakote Coatings Fl and Cerakote Finishes are used to help protect many different aluminum products. The Cerakote Air Cure process is suitable for all aluminum alloys: Raw aluminum, brushed aluminum, and even polished aluminum! It is even ideal for protecting anodized aluminum. If you need protection for products or parts made from aluminum or aluminum alloys or other materials, our Cerakote Air Cure process can certainly help. This process is also safe and effective for plastics that cannot be cured in an oven.
Our experienced professionals are happy to speak with you about our Cerakote Air Cure, protective cerakote coatings, and cerakote finishes process. We would like to share with you how we curate personalized cerakote ideas that provide you with the best value.
Choose Battle Worn Cerakote For Your Firearm!
Decades ago, gun owners protected their weapons by covering them with a layer of bluing However, after realizing that such coatings have no water-resistant properties, gunsmiths needed a better alternative. They needed external repellent oils so that the weapon does not rust or erode. Cerakote which is derived from a polymer-ceramic compound that has several enhancing properties provides an excellent finish to the guns. It makes your firearm look elegant and enhances its durability. It also offers water-proof protection for firearms.
Cerakote Vs Powder Coat - Which is the best?
A common question you might ask, Cerakote Vs Powder Coat - which one to choose? We would ask you to select a ceramic-based cerakote because it is more durable than a powder coat. When it comes to strength, cerakote is extremely strong; you can also customize your firearm with different cerakote colors and finishes. Therefore, if you ever get a Cerakote Vs Powder Coat situation, you must choose cerakote.
What are the benefits of Cerakote coatings?
It protects the firearm from corrosion and oxidation.
It protects your firearm from abrasion and provides chemical resistance.
It enhances the strength and longevity of your weapon.
It acts as a gun lubricant but does not attract unwanted dust and dirt.
It keeps your gun clean, which makes you confident about its functionality.
Due to cerakote high temp resistivity, your gun remains dry during summers. Explore our custom cerakote ideas because we at Spectrum Coating Enterprise provide innovative cerakote colors and finishes too! We offer our coating services to customers across the USA and businesses from the manufacturing industry, especially steel and aluminum production companies.
We are happy to help companies looking for premium cerakote coatings, hydro dipping, or corrosion-resistant coating. Be it guns, barrels, firearms, aviation body parts, or even OEM parts; we have protective coatings for all your needs. To learn more about our cerakote ideas and services, contact us; we've carefully improved our craft over the past two decades that has brought immense success to our clients!