Spectrum Coating Finishes Firearms Strong with Cerakote! - Spectrum Coating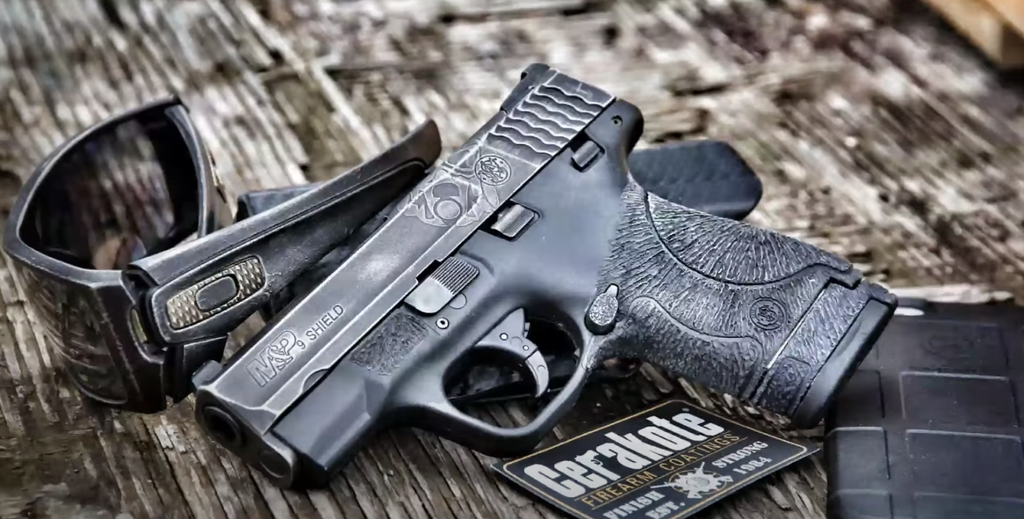 NIC Industries was founded in 1984, and through extensive research, development, and innovation, Cerakote has proven to offer an elevated level of durability to hard surfaces, making it ideal for firearms. The coating does not bind at a molecular level to the substrate and provides a superb protective finish when professionally applied. It is an all-purpose coating in that it can be applied to metals, plastics, polymers, and wood.
Spectrum Coatings specializes in applying Cerakote to guns, which is a Polymer-Ceramic Composite. For firearms, the coating adds an exciting element and provides additional benefits. In addition to personalization, it improves a number of physical properties, including performance, abrasion/wear resistance, corrosion resistance, chemical resistance, impact strength, and hardness. Gun owners appreciate the fact that the coating protects explicitly against scratches, which can happen whether practicing on the range, wading through water for ducks, deep in woody underbrush while hunting deer, or out on safari expedition for big game.
"Located in Cocoa, we do work throughout Florida as well as have international customers," said Spectrum Owner Steve Taylor. "Our staff works with individuals, gun manufacturers, and retail shops, advising clients about unique design techniques to express their personalities or market their brand on guns and gear."
The finish is a process that follows steps learned in professional training courses and years of developing a high level of skills. The Spectrum employees are certified Cerakote applicators and specifically trained in preparation, degreasing, application methods, and curing procedures.
The Steps to Cerakote a Firearm
Planning: From stencils created in house to one of a kind airbrush patterns or custom engraving, the most challenging step is settling on the final design.
Job Start: The process requires owners to surrender their gun to the shop for a period of time, depending on the complexity of the design and the type of firearm.
Disassemble: Completely disassemble and detail strip the gun.
Degrease: Soak each metal part in a degreaser or acetone for 20-30 minutes, then dry.
Sandblast: Lightly blast, creating a consistent blast pattern over the surface of the piece.
Racking: Hang parts with metal hooks, thin wire, or alligator clips with clear access to each part's surface.
Gas-Out: After racking, heat the metal parts in the oven at 300 degrees Fahrenheit for approximately 60 minutes to allow for the evaporation of moisture and solvents or brining any remaining oil to the surface, then cool.
Preparation: Completely mix colors, pour the amount of Cerakote needed for the project in a glass container, and add the catalyst.
Spraying: Plug or mask off parts that do not get coated, blow parts with compressed air, and spray an even coverage, so the part appears slightly wet.
Curing: Follow the appropriate curing schedule of time and temperature for the specific material and series of Cerakote and allow components to cool.
"Black never goes out of style, but some gun owners find its classic look a little too bland. That's why they have turned to Cerakote and its hundreds of color options and flexibility for showing their own personality or creed whether they want a flashy, funky or fun firearm," said Taylor.
Practical applications of Cerakote are appealing for durability, but the art behind the trend has driven a new generation of gun owners to seek out the finish. The key to a fantastic end result is a high degree of artistic experience that includes layering, blending, and a strong knowledge of color theory."

To discuss a one-off project or bulk order, contact Steve at Spectrum Coatings by phone at 321-632-3018 or send an email to info@coatingsbyspectrum.com. Check out the website gallery online and follow them on Facebook for ideas.
---